I always enjoy crafting easy kind of things, that's why you can see all things easy by me at my blog. I usually feel tired by trying things while creating crafts. Usually I try those things which are easy to make. Less effort & best result kinda things. So why not to create something easy but fun? Valentine's day crafts are visible everywhere around these days. And I made a DIY refashion too. It's a Heartistic Painted Shirt as a Valentine's Day Craft idea. I hope you will find it interesting. Have a look:
Heartistic Painted Shirt-Valentine's Day Craft
See..? isn't it Heartistic? Here is the Formula.. Heart+Art+Artistic= Heartistic & The formula for me basically is; I+Heart+Art=Heartistic.. Haha, lame joke I know. Anyways, lets see what I have for you dear readers today!
This is what I have done. I use some fabric paints & stamp for designing my shirt. it was super easy & simple! Believe me.
All you need to have is; any plain shirt, fabric paints, hearty stamp, foam/paint brush, marker, glitter.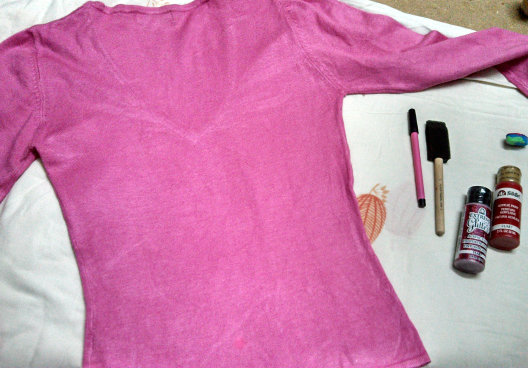 The front side of shirt was already a little designed with some motives. so I thought to design the back side of the shirt with some hearty stamps. See how I have done it. steps below:
1- First I place a paper/card inside the shirt, so any color penetration can not be disturbing the front side of the shirt. I draw a shape of heart with the same pink color marker, it was just an outline idea before starting the whole design.
2- I apply the paint on foam brush & then used the foam craft brush as stamp pad, but carefully!
3- Start stamping & designing the shirt.
4- Fill the whole heart shape with the design.
I made the design at the border of the shirt. When it was dry, I've added some dots with the help of paint brush tip in the design, now its looking more as completed. But I missed one thing! while editing the pics, I notice I should be designing at the arm cuffs border too. I add some glitter dots too in the design & it was so fun!
See how is it? Not bad I guess!! I was not in a mood of filling the whole shirt with the design, but it was good having just a heart shape in the middle.Isn't it fine? or if you want to fill it with more hearty stamps or designs, you can go for it..I like this simple version though.
Here are a few of my tutorials on Valentines day crafts. I hope you will like seeing these ideas too.

Grow Love Painted Mug Tutorial

Rosette Headband DIY, Glitter Eyeglasses DIY, No-Sew Netting Rosettes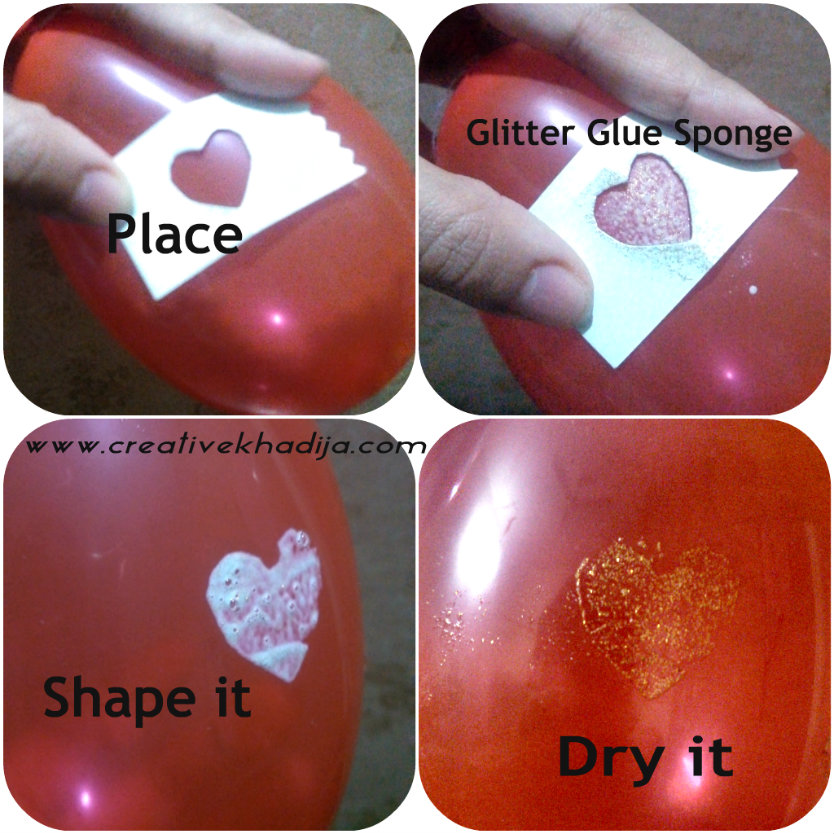 Glitter Hearts Balloon DIY
I hope you will be enjoying this idea. Keep creating craft thingies for yourself & others. Be sure to Love whatever you are doing. I wish you a very nice day & Lovely life ahead.. may your everyday is filled with more Love & Care.. as its a Valentine's day.. Everyday!
Have Fun and keep creating!
~ Khadija