Accessories
DIY Green Shimmer Bangles-Azadi Crafts Series
Hi Girls,
Are you ready for another green craft related Independence day of Pakistan? Did you enjoy my previous two DIYs related to kids back to school as well as independence day craft idea? I am glad to see the feedback by you dear readers. Two years back I design glass bangles with glitter, Remember? I thought to share another shimmer & bling bangle idea this year. I hope you will like my today's accessory design idea. After two back to school craft ideas, Now it's time to share something girly & shimmery. Let's design a bangle today with green shimmer. This can be a Back to school idea too if you want to gift this to your teacher. Let's see..
DIY Green Shimmer Bangles-Azadi Crafts Series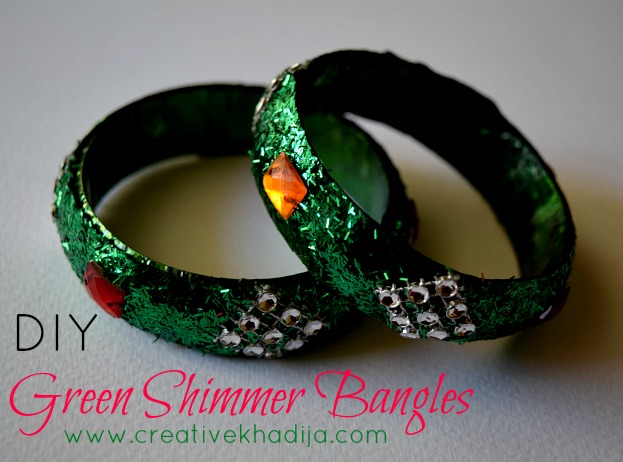 This is an easy & quick idea for bangles designing. I got two plain plastic broad bangles from a local shop. They were in black base color.
I don't have step by step pictures of this beautiful bangle, When I made it, I was sure I will not be able to make it fine & neat successfully. & now I have regrets Why I ignore capturing step by step images of this bangle while making?
I saw a similar bangle on an accessory store. That was in silver only. So I got inspiration to make something like this in green color! Luckily I found some plain bangles for finally designing with independence day theme. it's done now but I wish I had step by step images of the tutorial.
As the making is super easy, Then I am going to share step by step written instructions only. Let's see how I made it.
Craft Supplies You Will Need :
Bangles
Green Tape
Double Tape
Shimmer-Glitter chunks
Rhinestones
Glue
How To Make :
First of all I cover the plain bangles with green tape, (The same green tape which I used for top & bottom of this can)
Then I paste the double tape on the bangle surface.
Put all the shimmer in a plate & roll the bangle surface on it, So all the shimmer will attach to the double tape.
Then take off all the extra shimmer from bangles.
Get some rhinestones in silver or multi colors & apply with UHU transparent glue.
And the bangle is done!
The shimmer will keep falling off & I don't mind this green chunks on my hand. They look cute. But if you want to seal the bangles surface, you might spray any transparent paint over it.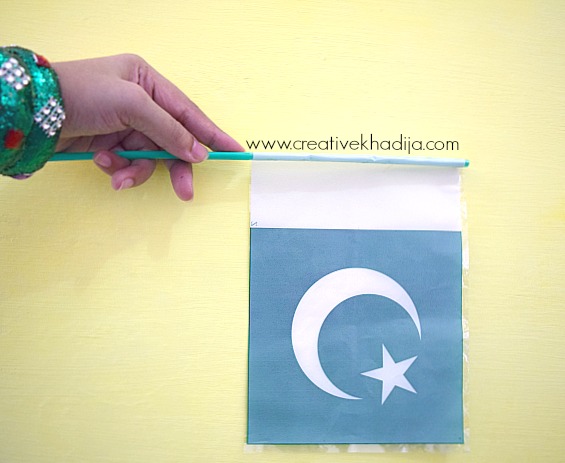 It was not so easy to capture your own hand pic with your other hand while holding a camera. Pheww.. Well, I hope this image with Pakistani flag captured okay!
You can also have a look at my other independence day crafts ideas. I hope you will enjoy these.
Have a great day Friends. Feel free to share the article on your social media networks :)
Thank You.
Khadija ~