Hey all, I am going to share something about beauty & skincare today! Bioderma Pakistan organized Bloggers Meetup at Tuscany Courtyard Islamabad. Many fashion & beauty bloggers from twin cities were invited there. Bioderma area manager also visited Pakistan for the meet & greet session. Today I am going to share updates with my dear readers. I hope you will enjoy seeing some details of the meetup, Have a look :

Bioderma Pakistan Bloggers Meetup At Tuscany Courtyard Islamabad
I got an invitation to be a part of Islamabad bloggers meet and greet session. Bioderma Pakistan sent me product samples along with invitation card.
It was a pleasant Sunday evening at Tuscany Courtyard where we all bloggers enjoyed meeting each other & discussing Bioderma products. We saw a detailed presentation of Sesibio H2O Makeup Remover & cleanser by the Brand manager & Marketing managers Bioderma Pakistan. They briefly explain the product's unique features. We bloggers were asked to try live demo of makeup remover & if we have any question about it. It was interesting to ask them questions about products. We test Bioderma Sensibio H2O makeup remover there. Everyone was satisfied.
After brief presentation about product & demo, Bloggers were served with some yummy Hi-Tea & several bite size snacks. We had a good gossip with blogger buddies! It was so nice to know about many new bloggers & people who came from other cities too for attending the meetup. We enjoyed taking selfies, chit chat & blogging stuff.
Bloggers meetup went awesome, Everyone got a goodie bag filled with Bioderma sample products along with some freebies like two USBs & a pen. Bloggers meetup was organized by FourthARC events & PR. They arranged everything very well. Looking forward to see them visiting Islamabad for more events!
Lucky draw is happening here & Miss Justine is going to pick one lucky winner.
In the end of the event, There was a lucky draw between all 50 something bloggers. Guess who won the draw? WOW, It's ME! I won a lucky draw for the very first time :) YAY!! I won three full sized products by Bioderma, Photoderm Sunscreen lotion, Sebium Foaming face wash gel, White Objective face mask.
Okay now I have a good stock of Bioderma products! Let me share a quick review of the products which I got in all these three goodie bags.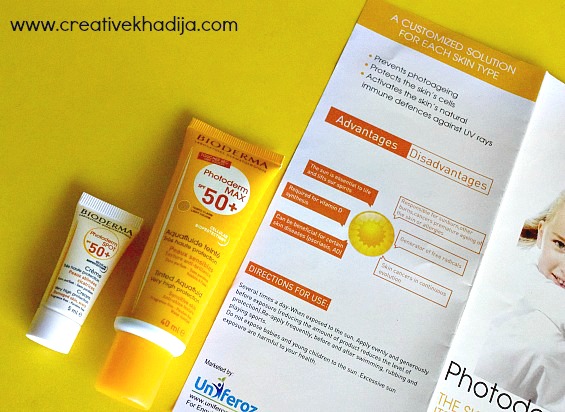 Photoderm is sunscreen formula with high protection. It also smooths & refines skin texture.
Sebium Foaming gel cleanser purifies the skin & cleanse perfectly. It is anti-bacterial & anti-inflammatory formula with refreshing fragrance.
Bioderma White Objective – Moussant is face & body wash. It brightens the complexion & prevents pigmented marks. Guaranteed efficacy on skin brown spots. Isn't it amazing?
You can use it twice a week only. Apply a thick layer & leave for 5 minutes. Rinse thoroughly. You will experience great result.
Atoderm is perfect for dry & damaged skin. It protects skin from dehydration. This formula contains glycerin & Vaseline & it's fragrance free.
One of the best Bioderma product. Sensibio H2O. It's not just makeup remover. It cleanse wonderfully. It soothes & refreshes skin by preserving the smoothness in the surface of the skin. This is one of the most popular product by Bioderma.
As I reached & while meeting my friend suddenly I hear a voice"Hey Khadija I am a big fan of you" I was not expecting this by the way, When I asked that cute girl whats your beautiful name? She didn't reveal until her another friend came & disclosed. Filza you made my day. Later I met 3 other girls who met & disclosed I am an inspiration for them for blogging & creafting. One girl told me She try most of the DIYs I share on my blog. Humna Raza (Mrs. Muzzamil House Of LOLs) was sitting next to me & we enjoyed talking about blogging & taking selfies together. My friend was envious to see that Humna appreciate me a lot & also a fan of my creativity! How nice of you all. I am lucky to have wonderful people in my circle. God bless you all, may you all stay successful & happy always! More power to you my girls.
I hope you've enjoyed my today's blog post. Let me know if you have any question about the product or event. Tell me which product review you would like to see first. I will be sharing reviews on my instagram as well. Be sure to follow me on Instagram.
You can connect with Bioderma on Facebook & Instagram. You will love their skin care & beauty products. Be sure to give it a try!
Have a great day!
Thanks
Khadija~