Hand Painted
Hand Painted Black Box Inspired by Henna Designs
Happy Monday dear girls! I am glad to have a great start of the week today, what about you? This week I have planned some video tutorials for you. Sounds interesting? I can not wait to share further details about it. Very soon I will work on the video editing and then I will make it live on the blog and YouTube. Let's move to the today's creative craft. I am sharing a hand painted black box inspired by henna designs. Though it's not a step by step DIY but I have shared some similar DIYs and video tutorial in past.
Hand Painted Black Box Inspired by Henna Designs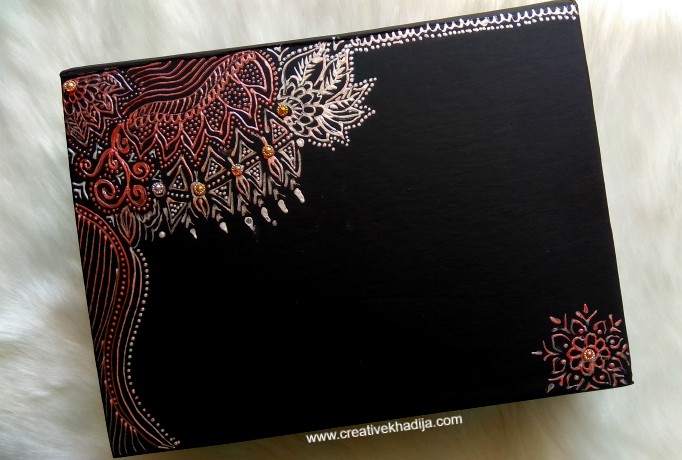 Girls and henna designs connection is infinite. Tell me about some girl who don't like henna/mehndi designs? I bet there is hardly any girl who don't like henna designs. Well, I apply henna not more often on my hands but I like the motifs on decorative stuff or home accessories.
Few weeks back, I received this black box filled with some cosmetics as a blogger PR package. In the end of the article I will show you what was inside the box.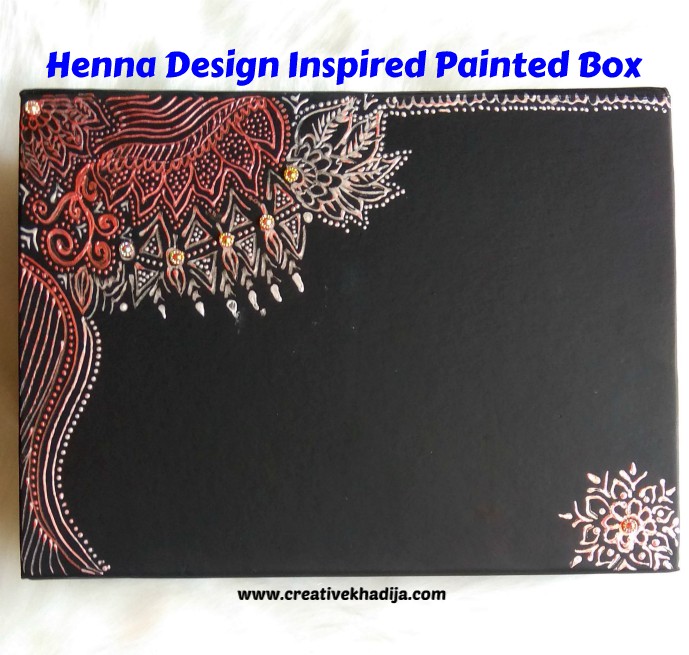 Outer side of the box was plain black. I used some red and white fabric paints with tip on the tube to design the ouster side. Now it's easy to find out the opening side of the box.



I draw freehand on it, then after designing the box I pasted some shimmery rhinestones on it. Can you spot some out?
After a couple of hours it was dry and perfect. You can save your makeup goodies inside or you can also organize some accessory too. I enjoy decorating random boxes and keeping them as organizers.
These were the cosmetics inside the box sent by ArtDeco Pakistan.
Aren't these products sounds interesting? I might soon share a detailed review of these products. Would you like to know more? As far as I have used these products in two weeks, I simply adore all of them. Good quality and really useful for a makeup junkie girl.
You can also have a look at my previous Henna designed inspired diary cover making video tutorial HERE
I hope you liked my todays blog post, I want to update my blog more often, so may be sometimes there are no step by step tutorials. This Hand Painted Black Box Inspired by Henna Designs is one of the random craft which I create sometimes and do not share because of less images of making!
Check this video from my Youtube:
Have a wonderful week ahead. Happy creating everyone. Do not forget to subscribe my YouTube channel :) Thanks.
Khadija