In my previous blog post, you saw my nieces crafting together & decorating alphabets of their names. They are also crafting for Independence day of Pakistan as known as Jashan-e-Azadi Pakistan. Today I will show you their painting of Pakistani flag. My nieces are enjoying crafting together. I like seeing them doing fun activities and how they share ideas about using craft supplies. Kids are very innovative no doubt. Have a look at today's fun activity of my nieces about painting a Pakistani flag for the independence day of Pakistan.
Pakistani Flag Painting for Independence Day by My Little Nieces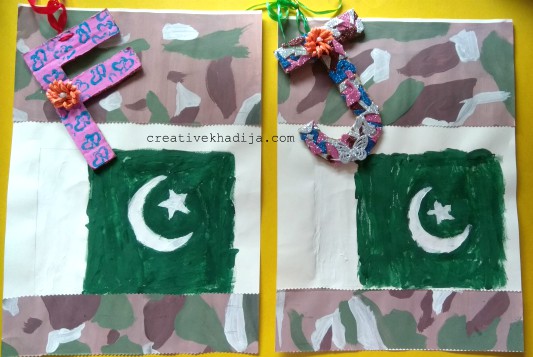 These are hand painted flags of Pakistan by my preschool nieces. I was helping them while they were painting. As they are good in drawing already so they were careful about crossing the lines which I draw while sketching the flag design on plain sheet.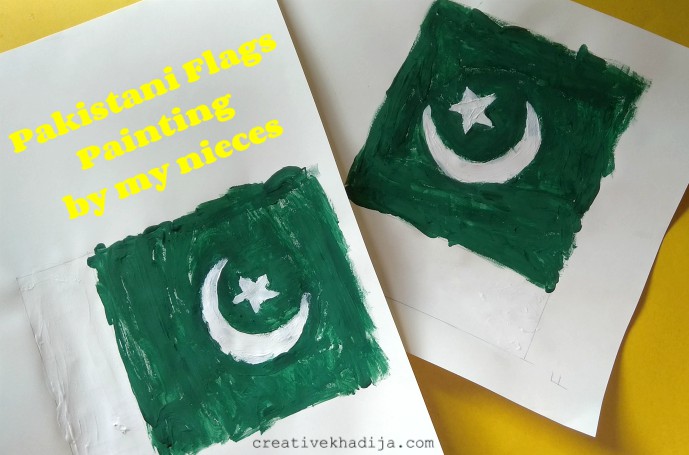 Not bad, right? They have recently started school and they are doing pretty well with paint brushes application I am sure.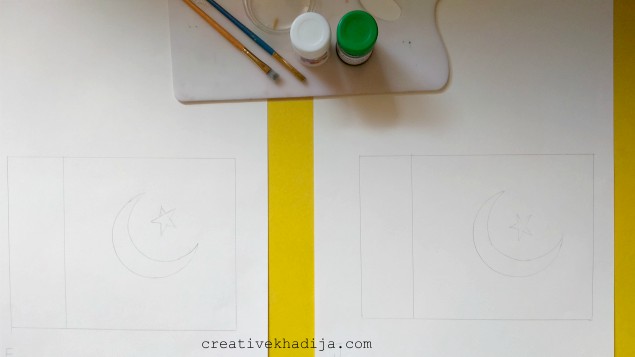 I sketch flag on a plain white sheet & provide them paints & brushes for painting the flags. You need a very few art supplies for painting this flag.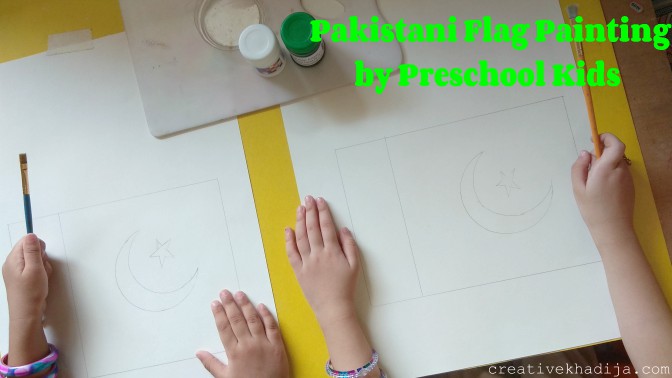 They both were very excited to start painting, I hardly get a chance to take a click of them sitting before starting it. By the way, I love these cute tiny beautiful hands. So much talent hidden in these hands <3 InshaAllah.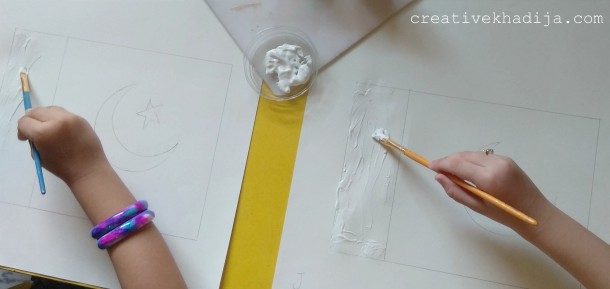 They usually don't follow my suggestions while crafting, hehe. I asked them to start painting with green first but they said white  is okay. So here is the painting start with white side. last time when we were crafting together, I suggest them to play with different colors of paints as there  were 12 colors pack.  But they choose pink and blue only while painting last week.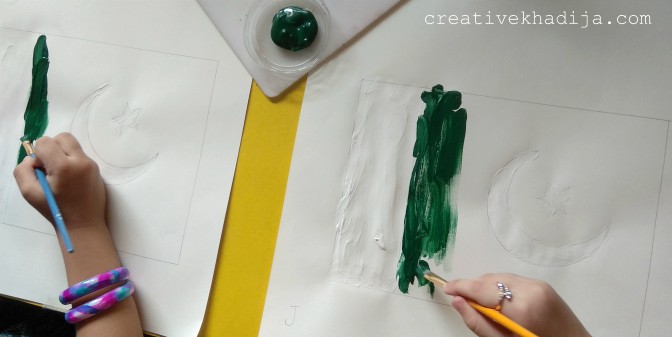 After painting white in the flag strip, moon & star now they started painting green paint in the flag of Pakistan.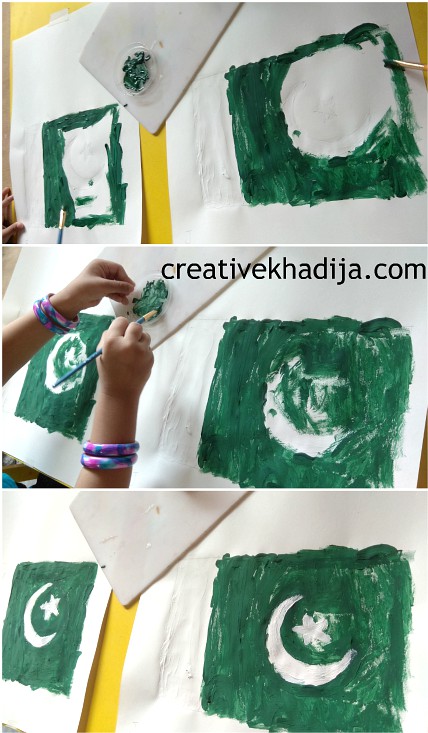 They both almost hide the stars with green paint, so I painted it in the end to give a little bit of shape to the star. Even the edges of moon disappeared too. I fixed the minor mistakes by giving final paint brush touches.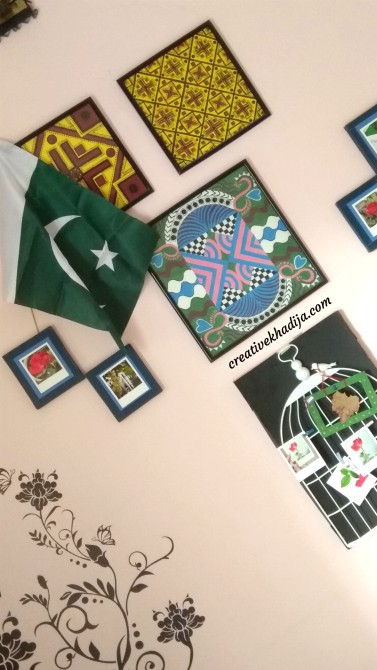 If you are following me on my Facebook & Instagram you may already familiar with this above picture as I have shared this few days back. This is my craft room wall with the Pakistani flag hanging on.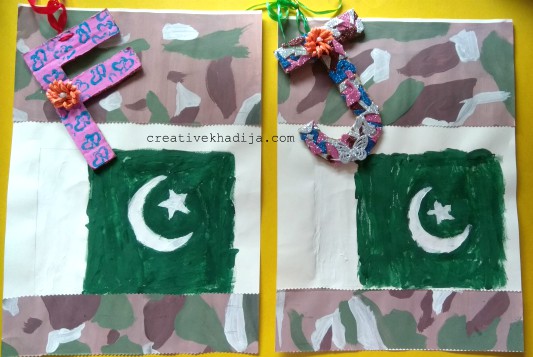 These alphabets are decorated by my nieces as I have shared in my previous blog post. Do you remember one of my post from last year when I painted a camouflage wall art? I had some painted sheets of camouflage design which my niece spotted and said she want to make something like this around her flag. I doubt she might create a mess on the flag painting, so I cut the same sheet and pasted on their painted Pakistani flag art work as it's painted by them. So they both are now happy with it.
Here it is the camouflage wall art I made once for a client. Check more below: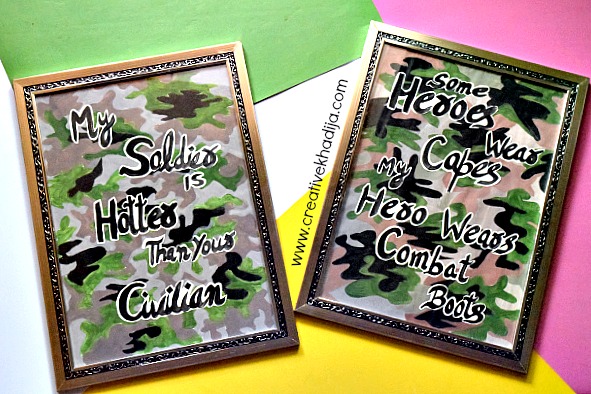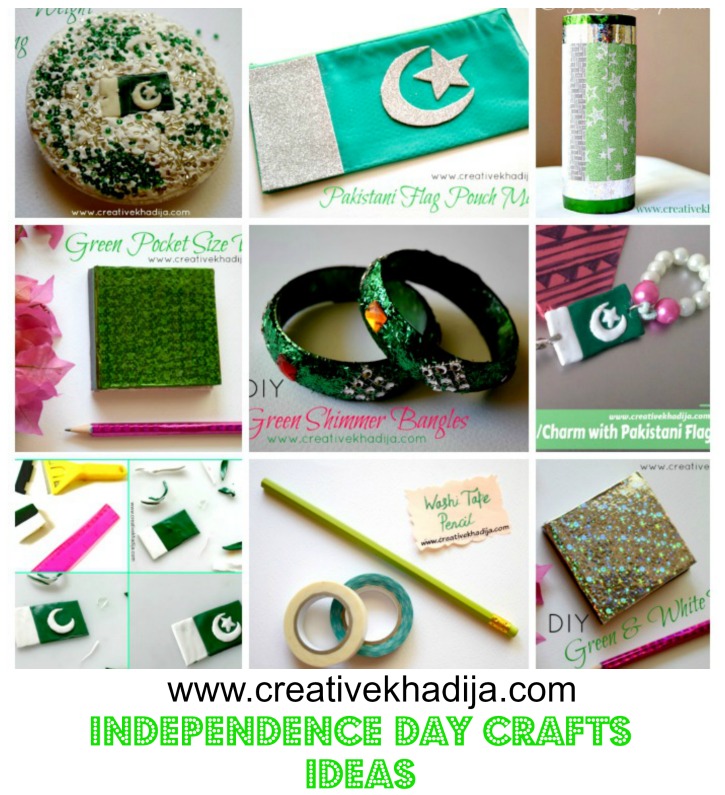 To see more of my Independence Day crafts & ideas, you may check these tutorials again. I hope you will again enjoy these ideas.
Also, I have an interesting update for you everyone! My next blog post is a video tutorial of something patriotic :) I will be publishing post this 13th Insha'Allah. Stay tuned. Be sure to subscribe my Youtube channel, so you will get to see my video first of all.
Feel free to give your feedback and let me know what do you think. Have you planned your Independence Day of Pakistan outfit and decor yet? I would love to see your preparations! Have a great weekend everyone :)
Khadija ~
P.S – This post contains a sponsored link. Thank you for your support.