Glitter
Summer Crafts Activities with Preschool Kids
Happy Rainy Day! I am having another kids craft idea today which I would like to share with my readers who are having preschool kids. Me & my both nieces (4 & 5 years old) enjoyed crafting together during  summer vacations. I  got chance to capture clicks of their craft activity. Today I would like to share the cute stuff they created under my observation. If  you are following me on the Facebook, you may already have checked glimpse of my today's blog  post.
Summer crafts activities are so much  fun, kids learn a lot of new creative things while creating stuff. My both nieces wanted to craft something with alphabets, I cut a box  board sheet in their name alphabet shape & asked them to let me know whatever they want to create. They both are very creative and smart girls. Kids these days are very sharp learners to be honest. On the other hand when I was a 4 years old kid, I think I was unable to match  my socks :p hehe. Anyways, let's see what we crafted together.
Summer Crafting Activity with Preschool Kids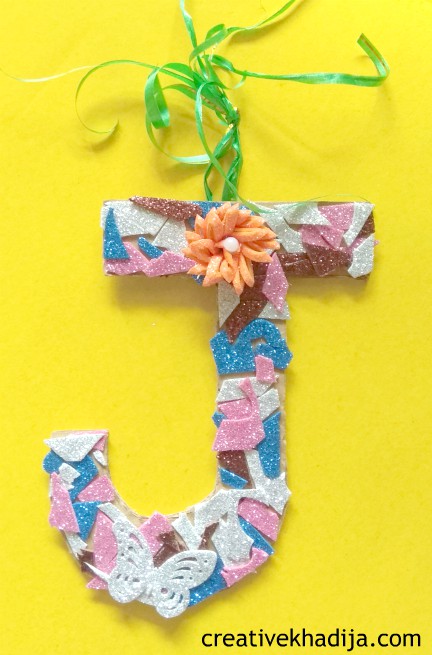 This is what my niece J created. She likes glitter crafts as much as her auntie K :)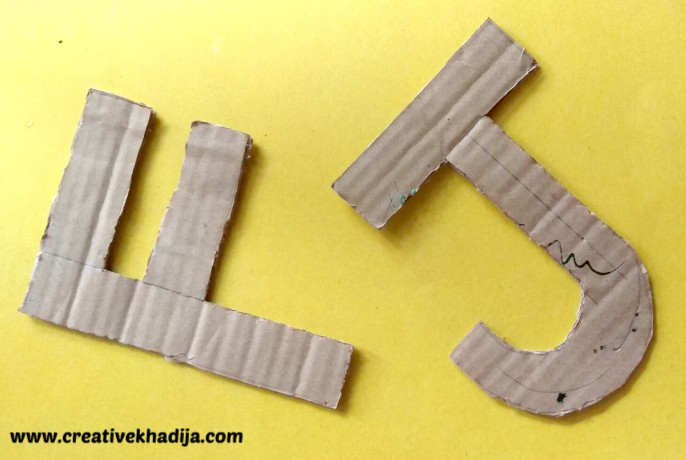 I cut these two alphabets of their names with a bob board sheet, also known as packing card sheet. I draw the alphabet on it and cut it with a sharp cutter. Then I hand over these to my nieces. DO NOT ALLOW KIDS TO CUT IT BY THEIR OWN AS THEY CAN NOT CUT.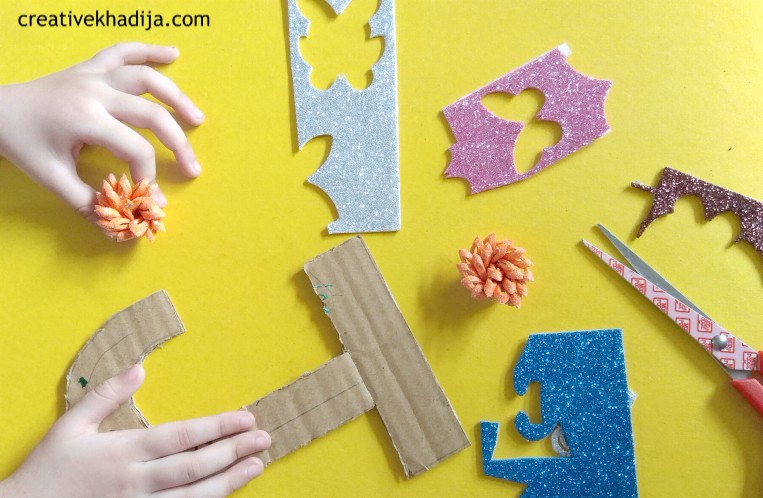 Every time when I craft with glitter foamic sheets, I save the big sized left over pieces as they can be re-used.  I gave those to my niece and asked her what colours she want to use on her name alphabet. In my stash there were above 10 colours of foamic sheet left over pieces but my nieces selected only these 4 colours.




The flower my niece is holding in her hand is super easy to make. Last year I made these flowers for decorating their pencils. Though it was not shared on the blog as I didn't click the making but i have another similar flower making tutorial on my blog. See the Felt Flower step by step Making.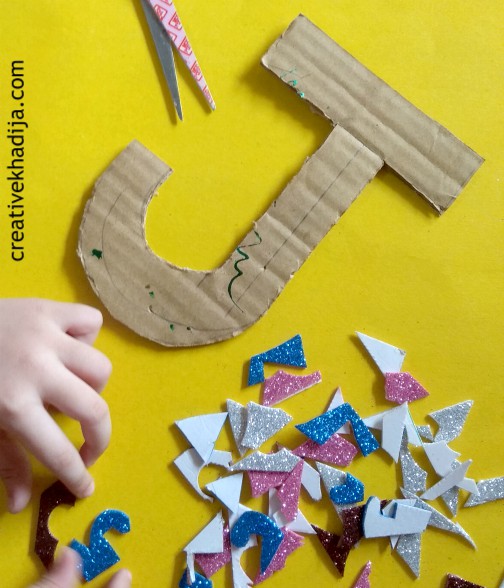 She selected glitter sheet colours & I cut those in small pieces for her. Then she started pasting the chunks on the alphabet card by her own choice.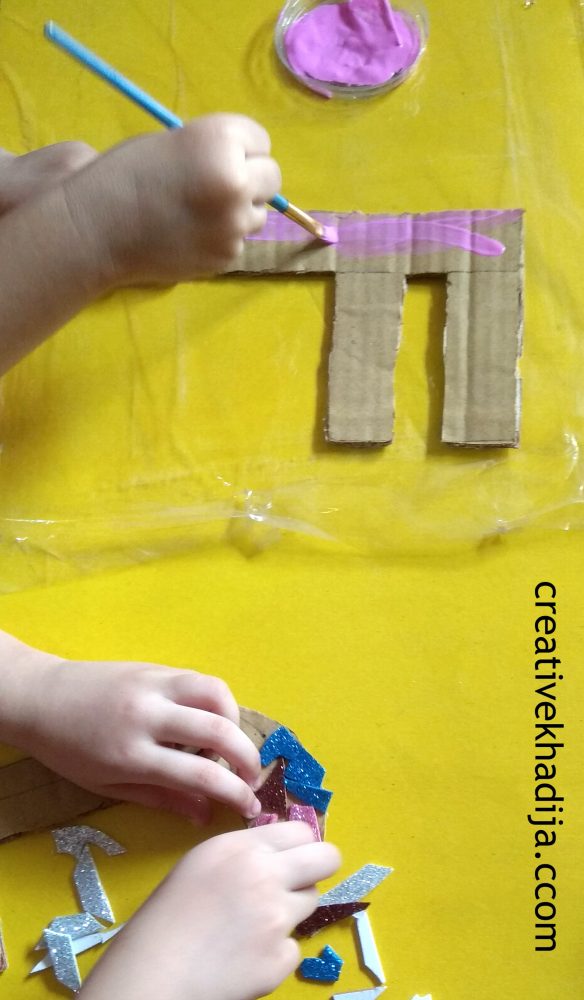 On the other hand, my little niece F decided to paint her alphabet card. Though J suggested her to do something with glitter but she refused & continued with painting the alphabet card. How I can suggest the little girls as when I tried once, J clearly said "Do not Dishpard me" (Dishpard = Disturb hehe)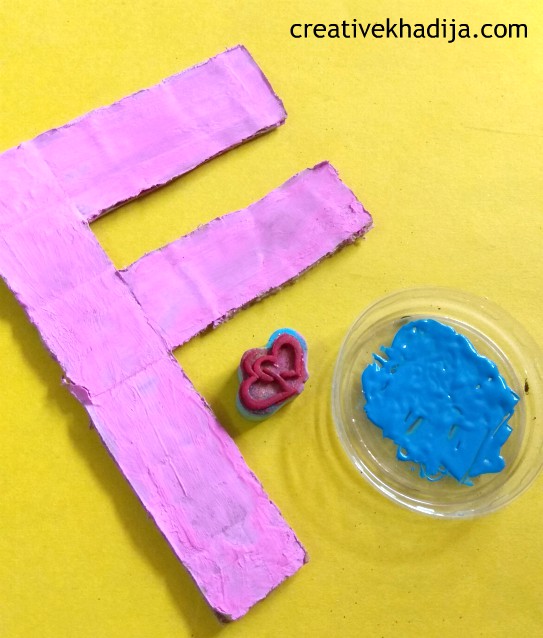 My niece F painted this with poster colours and she decided this combination from 12 colours bottles.
After painting the sheet, we waited 5 minutes and then used a rubber stamp to make these impressions of hearts.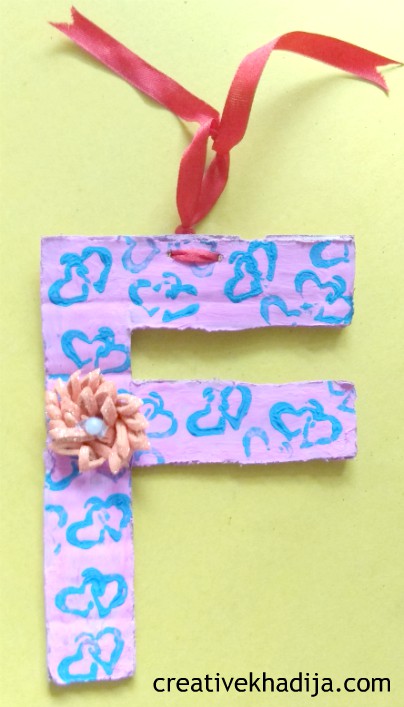 We decided to hang these alphabets in their rooms. So used a ribbon to make it  hang-able. Simply make a loop & knot it. As it's light weight, you can also hang with a paper clip by pasting on the back side of the card.
I paste these flowers with hot glue gun!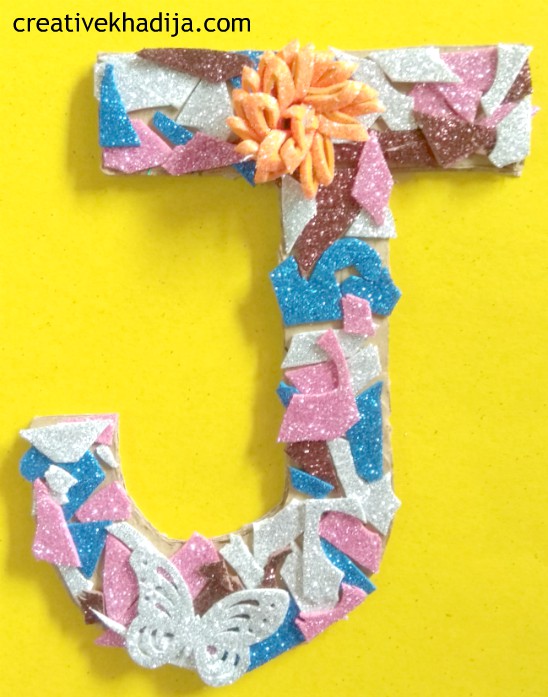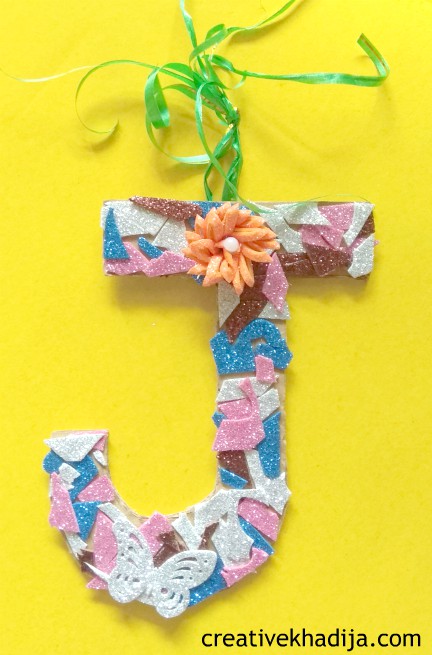 Both alphabets are ready to hang. My nieces were very happy at what they created almost all by themselves.
Summer Crafting Activity with Preschool Kids

This above is little niece's craft & below is elder one's. This week they are going to start their school again and very excited to be back to school now after summer vacations.







Do you have preschool or school going kids at your place to craft together? I always enjoy crafting with my siblings kids. I hope you enjoyed my today's blog post Summer Crafting Activity with Preschool Kids. Would  you like to see my nieces arts & crafts ideas on my blog sometimes? I will take pictures of their crafting activities then. Stay tuned to see more crafts & things!
Thank You!
Khadija