Hey all, I was planning to shoot a video tutorial for my dear readers but it's still not yet done. Oh well..year 2018 is ending & we can see others sharing round up of their work so I thought to share Creative Khadija Youtube tutorials roundup today. There are not dozens of my video tutorials though but not a bad idea to share a recap of half a dozen, right? Have a look please: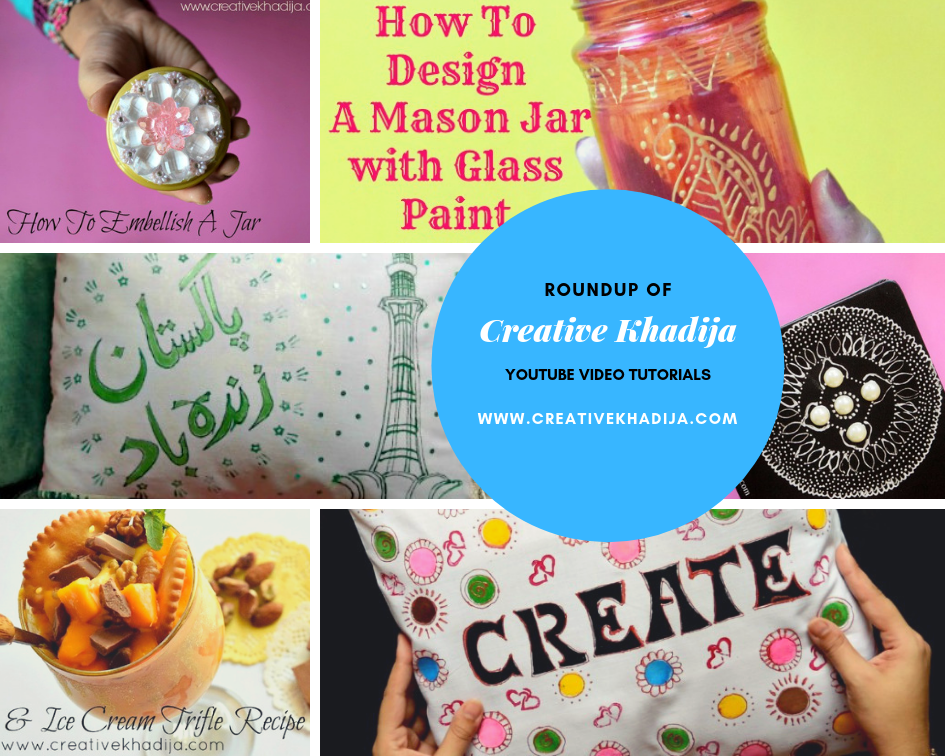 How T0 Decorate Mini Glass Jar
This was my first proper video tutorial on the YouTube. Though it was not a hit but not a flop as well. hehe! My tutorial video was basically part of a collaboration with SkillShare which was in parts while this one I have edited and created as one video. Also, You can check my blog post how to decorate glass jar HERE
How To Glass Paint a Mason Jar
As you know I share many glass painting tutorials on my blog, so you may imagine how much I like glass painting & creating arts with it. In my previous blog post I shared Islamic calligraphy wall art glass paintings. I keep sharing these arts as I like creating these. You can also check this mason jar glass painting tutorial on the blog.
Recipe – Mango & Ice cream Trifle
It was a collaborative video I created last summer for a brand but I would like to share this again. It's winter though and I am not craving for the mangoes or ice cream right now. hehe. You can check the video on my blog too.
How To Design a Diary Cover
I decorated this diary cover with some acrylic paints. I am sure you will enjoy the video tutorial of its making.
DIY Ramadan Lanterns with Glass painting
In Ramadan 2018 I decorated these mini jars as lanterns. I placed LED lights in the mini jars. Watch this video tutorial and also have a look at the complete blog post here.
Fabric painted pillow tutorial
I got few pillows stitched for painting but only two are designed yet. Would you believe other 3 pillows are still waiting for me to embellish them somehow! Well, may be in coming days I will do it. You can see this video tutorial on the YouTube and the detailed blog post HERE.
I designed a pillow cover on independence day theme during August. Pakistan's independence day is in August so I thought to share at 14th of August. You can see more about this video on my blog post from archive.
Mehndi designs for girls on Eid
This Eid mehndi designs video was my last video published on the YouTube channel about 3 months back. I know I am lazy if filming the videos but it happens when you try to be a jack of all the trades! hehe. Check the blog post here & also you can see my mehndi designs collection too.
I hope you enjoyed Creative Khadija YouTube tutorials roundup on the blog today. If you are a new reader of my blog, this will hopefully an interesting post for you! Stay tuned to see more arts, crafts, food & reviews on my blog!
Be sure to subscribe my YouTube channel :) Click HERE to visit. Share this blog post to spread the love for arts!
Thank you :) Have a blessed week.