kids crafts
Easy and Fun Valentine's day crafts for preschoolers
I enjoy crafting with my nieces, they are preschoolers. I am sharing some easy and fun Valentine's day crafts for preschoolers today.
Hello kids, how are you doing? My today's blog post is a collection of some creative project ideas for preschoolers kids, teachers & the mommies. As you know Valentines day is in two days only, so I am sharing another fun idea. In my previous post I decorated an easy valentine crafts ideas for Girls. It was a home DIY project. Today I have something for kids which they will surely enjoy crafting.
Easy and Fun Valentine's day crafts for preschoolers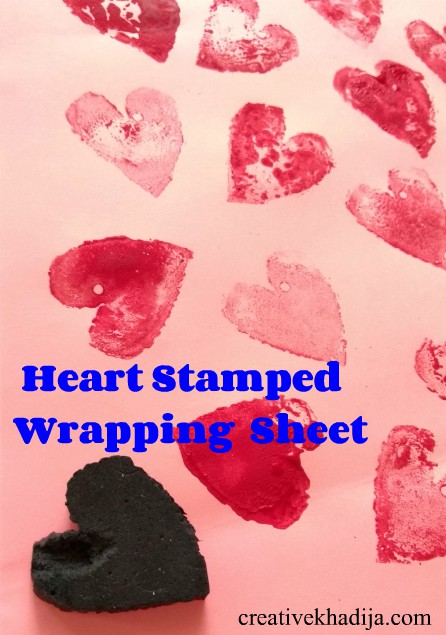 I made this heart stamp out of a rubber piece with the help of sharp paper cutter. I did it freehand, so you may notice its not the accurate shape of heart. then I cut it & gave it to my nieces for playing with paints. They enjoyed painting of a wrapping sheet with heart stamps.
How to make heart stamped wrapping paper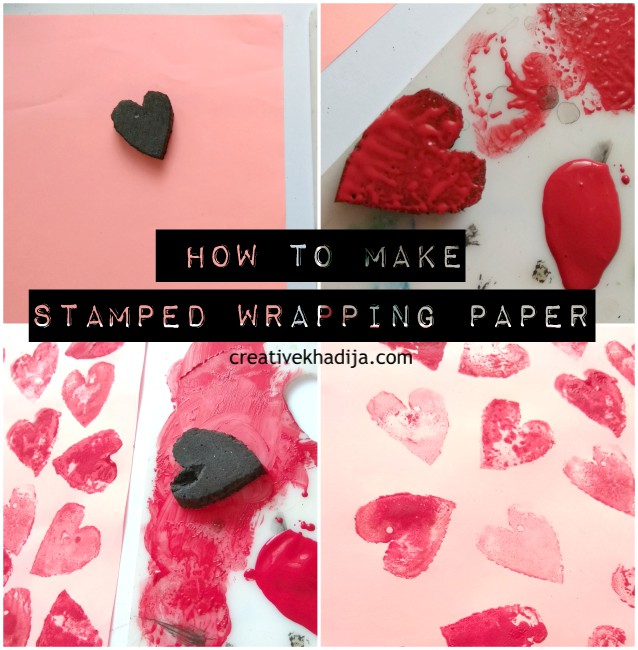 For making this stamped wrapping sheet you will new a few supplies only. Any color poster or acrylic paints, thick paper sheet & rubber stamp.
Spread some paint on the color pallet and allow kids to apply it on the stamp. My niece stamped these randomly on the sheet. Let it dry now for 15 minutes and then you can wrap any chocolate or gifts in this heart handmade stamped wrapping sheet.
Heart stamped designs on paper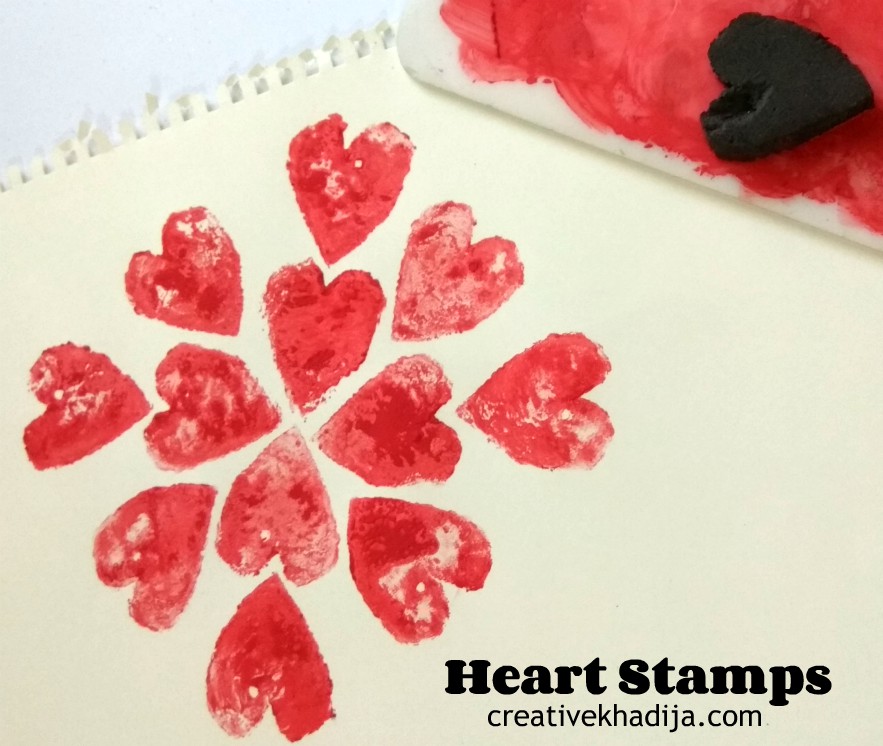 For making this heart stamped design on paper, I spot some marks on the paper & asked my niece to stamp on that.

Stamp on the paper sheet and make any types of designs in any proper manner or freehand. This can be a handmade card for valentines day as well.
My niece loves glitter crafts, you may remember few months back she decorated her name monogram with glitter chunks of foamic sheet. It's always interesting to create easy art projects with my nieces & they always enjoy playing with paper and glue. I do the cutting part as preschoolers should not use cutter or scissors without any elder's assistance.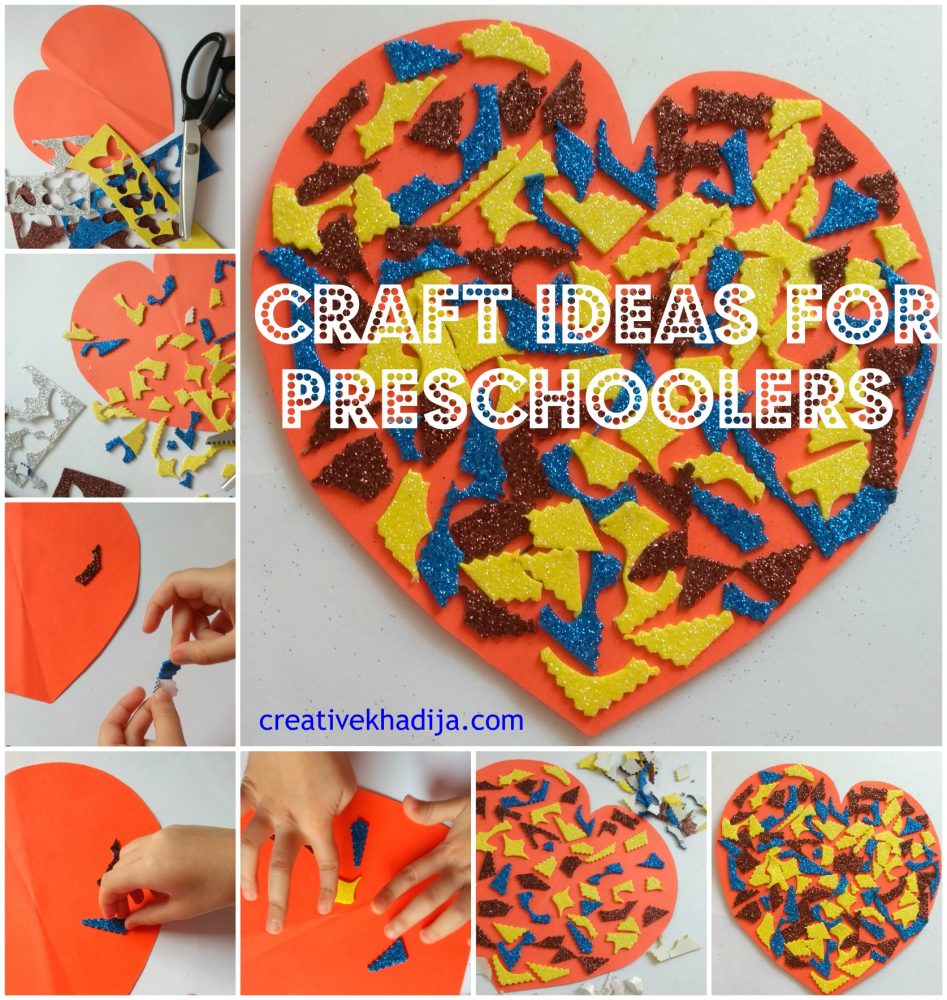 Here I have used this heart shaped card as template in my previous blog post. My niece asked me if she can use this instead of red or pink card, so we made it. So I cut the glitter sheet pieces into chunks for her with a zigzag scissors. I saved these pieces after crafting something in past. I reuse such waste materials for kids crafting and random details actually.
Cut the chunks & paste it on the heart shaped card. Kids can write on the back side of the card as well. This can also be used as kids room wall art. My niece planned to give it to her teacher :)

Easy and Fun Valentine's day crafts for preschoolers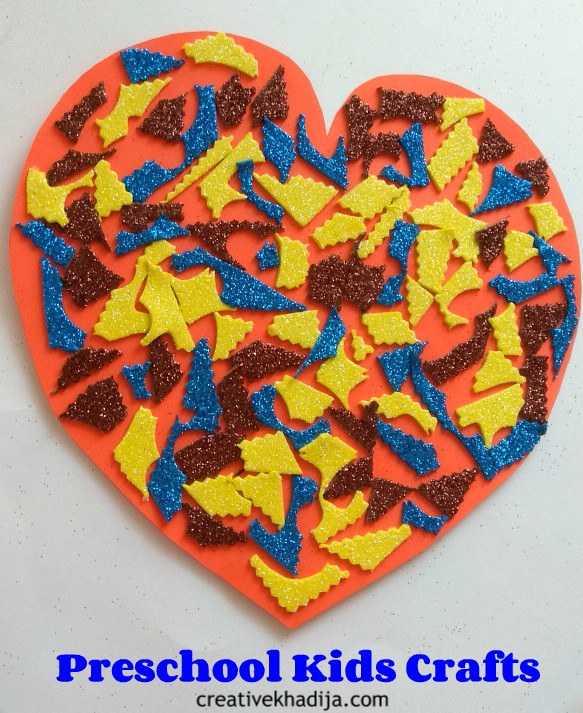 Very easy and fun idea for preschool kids to try for the Valentines day crafts.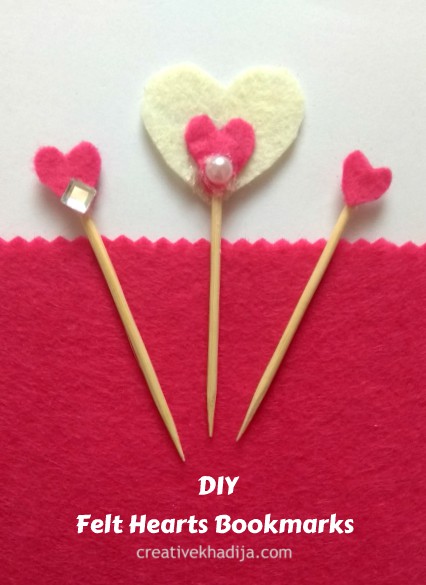 Bookmarks making is not only easy but interesting too. When I shared this idea with my nieces, they were excited to try it. For this valentines day craft, my assistance was important as it includes cutting part of felt fabric. I wanted to make it on bar BQ sticks but she suggested to use toothpick sticks because it's kids crafting. Lol. Okay, fine babe. Kids want to try small things and crafts.

How to make bookmarks with felt hearts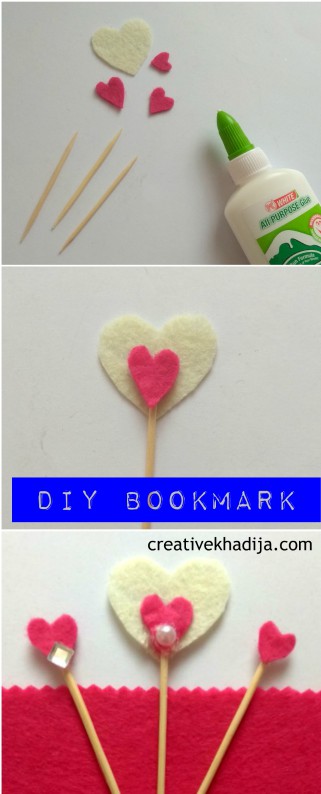 For making these cute little bookmarks with pink hearts, get some toothpicks sticks & any transparent glue. You will need to cut felt fabric hearts in small sizes. Then, I allow my nieces to paste it the way the wanted to do. They did some others too which I am not gonna show you, because these 3 were the only neat and fine bookmarks lol. Others were messy with glue btw. hehe. Kids really enjoy crafting and it helps them growing their creative side skills. My nieces loves playing with crafts in phuppo's craft room always <3
Easy and Fun Valentine's day crafts for preschoolers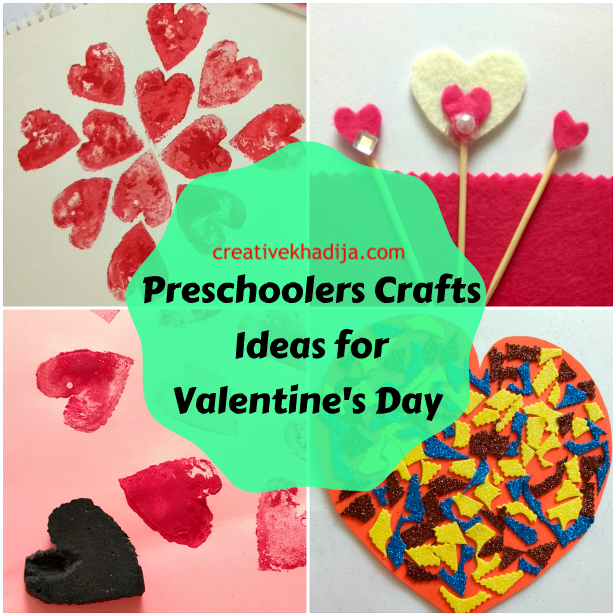 You can have a look at some of my previous Valentines day crafts and gift packing tutorials in my previous blog posts.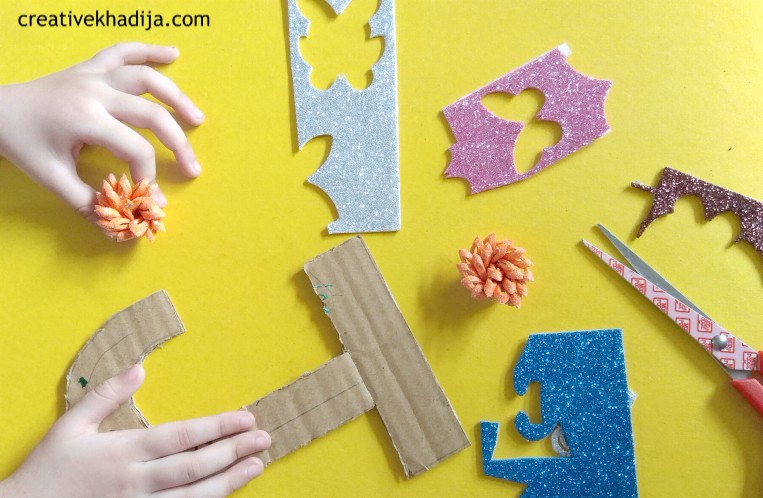 Crafting Activity with Preschool Kids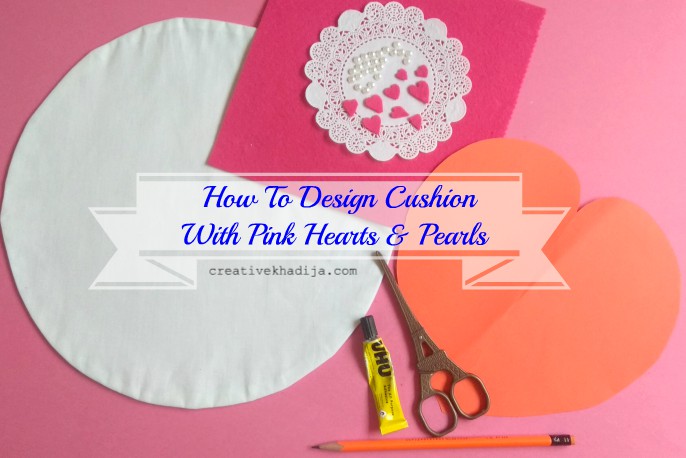 DIY Pillowcase Decoration Idea for Valentines Day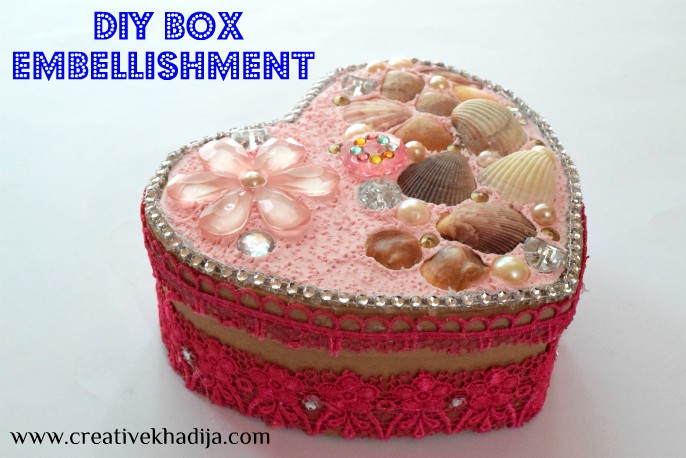 Heart Shaped Box Decoration with Collage Clay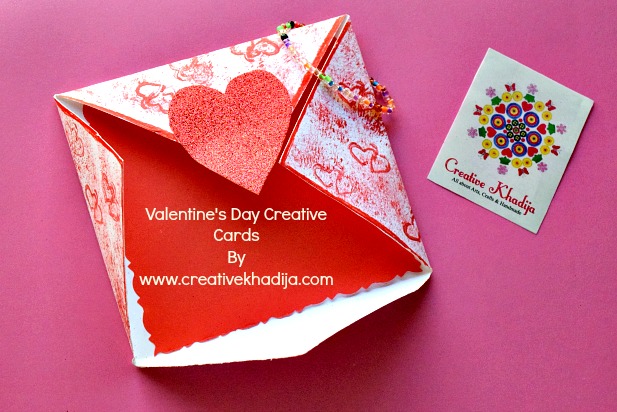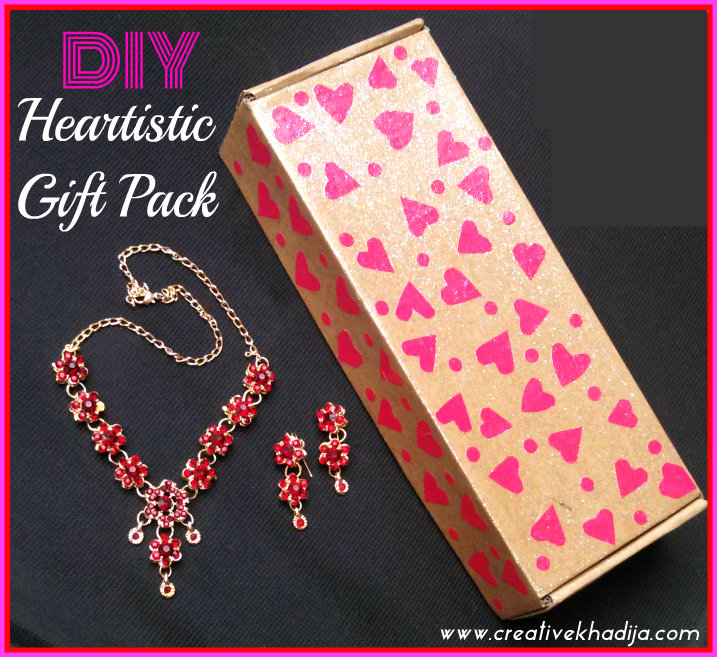 DIY Decorated Gift Box for Valentines day
Easy and Fun Valentine's day crafts for preschoolers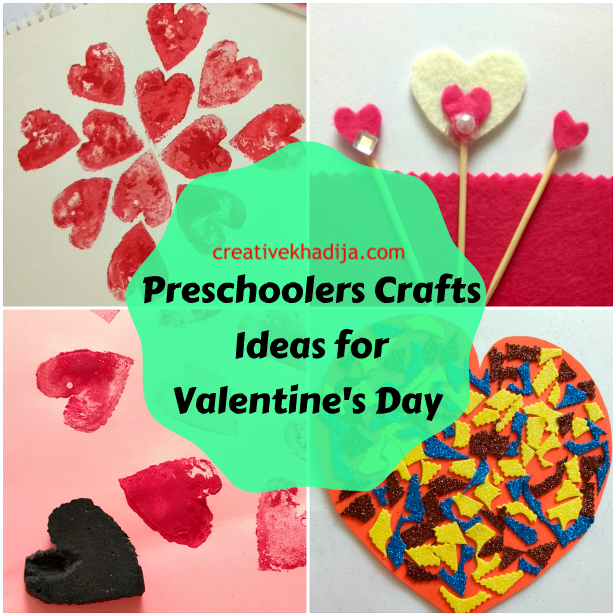 Stay tuned for more easy and cute crafts ideas for kids & girls. I hope you will enjoy these easy art ideas and crafts. Feel free to share your crafts ideas with me :)
Have a great day. Thanks!
Khadija